Fox cubs found in barn spark animal cruelty arrest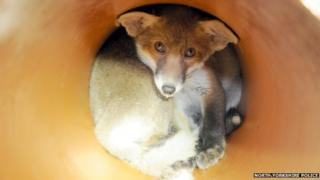 A man has been arrested in an investigation into animal cruelty after 16 fox cubs were found in a barn.
The cubs, aged between six and eight weeks, were found when an outbuilding on the Birdsall Estate near Malton was searched on Sunday, said police.
PC Jez Walmsley, said the cubs were taken from at least four different wild litters and appealed for information.
The man was held under suspicion of causing suffering to a protected animal, but later bailed, said police.
Anyone with information about earth being dug out or vixens being killed was asked to contact North Yorkshire Police.
The cubs are now being cared for in an animal sanctuary outside North Yorkshire.