Scarborough's new football stadium and leisure village approved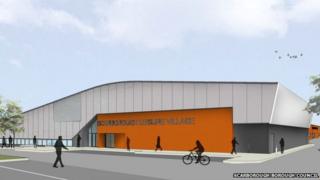 Plans for a football stadium and swimming pool in Scarborough have been approved by councillors.
The 2,000-capacity ground on the Weaponness car park will be the new home of Scarborough Athletic Football Club.
The council is selling the site of the town's former football stadium on Seamer Road to fund the scheme.
In addition to the community stadium, the development will include a pool, sports hall and squash courts.
Scarborough Athletic FC chairman Dave Holland said he was "delighted" at the decision, which will allow the club to return to Scarborough. The team currently plays its home games in Bridlington.
"The approval today is a key milestone in our dream to return back to playing in Scarborough," he added.
"It is fantastic news for everyone associated with the club, but especially to our long-suffering fans who have had to travel to Bridlington to watch us play since 2007."