Former Morrisons executive Paul Coyle jailed for insider trading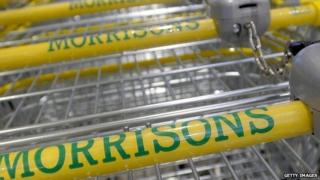 The former treasurer and head of tax at Morrisons supermarkets has been jailed for 12 months after pleading guilty to two counts of insider trading.
Paul Coyle, 50, of Warwick Crescent, Harrogate, was charged after buying Ocado Group shares between February and May 2013.
The two firms announced a £200m distribution deal in May 2014.
The judge at Leeds Crown Court also handed Coyle a confiscation order for £203,234.
The Financial Conduct Authority (FCA) said Coyle used two online accounts in the name of his partner for the trades and made a profit of roughly £79,000.
Georgina Philippou, the FCA's director of enforcement and market oversight, said: "Mr Coyle committed a serious breach of trust by using the confidential price-sensitive information he received as part of his role at Morrisons for his own personal gain."
In a statement, a spokeswoman for Morrisons said: "While this was a regrettable case of an individual acting alone we are pleased that our governance and processes were sufficiently robust to enable the authorities to achieve a successful prosecution.
"We are also pleased that the case has concluded and that the FCA's investigation did not raise wider concerns for the company."