Steeton man jailed for fitting car with speed camera jammer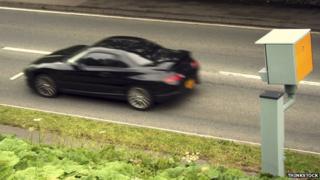 A man who fitted a device to his car to jam police speed cameras has been jailed for two months.
North Yorkshire Police discovered the laser jammer on Nigel Stephenson's Jaguar after their equipment twice failed to capture his vehicle's speed.
Officers also found a device used to alert the driver to the presence of speed cameras in the car.
Stephenson, 65, from Steeton, near Keighley, pleaded guilty to perverting the course of justice.
Jailing Stephenson at Bradford Crown Court , Judge Rose said: "You will understand, as will others who choose to spend significant amounts of money equipping their car so that they can break the law as they wish, that prison is the outcome for offences such as this."
The court heard suspicions were aroused after handheld speed cameras picked up an error code and audible feedback when directed towards Stephenson's car on two occasions in August 2014.
On 4 August, officers were unable to read Stephenson's speed as he drove along the A59 between Bolton Abbey and Harrogate, despite trying three times.
Four days later officers were again unable to take a reading from the car as it travelled along the A629 at Crosshill, near Keighley.
'Cheat the laws'
The court heard Stephenson had been issued with a caution for using a similar device in 2010 and had been caught speeding twice before committing the latest offence.
Pc Andy Forth said: "The sentence handed out to Mr Stephenson reflects how seriously the criminal justice system takes attempts to pervert the course of justice.
"Having previously been issued with a caution for a similar offence, Mr Stephenson chose to ignore that warning and believed he could cheat the laws that are made to protect road users."
Stephenson was also banned from driving for six months and ordered to pay £1,000 towards the cost of the prosecution.