Thirsk slaughterhouse 'attacks' probed by FSA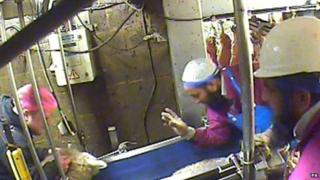 One man has been sacked and three others at a North Yorkshire slaughterhouse have had their operating licences suspended after hidden cameras filmed alleged mistreatment of animals.
Footage captured by Animal Aid apparently shows sheep being kicked and punched at Bowood Lamb in Thirsk.
The Food Standards Agency (FSA) has begun an investigation.
It said there was "no excuse" for how the animals were treated, and said prosecutions could follow.
The slaughterhouse is licensed to kill animals under the halal code, which states animals are supposed to be killed quickly with a single sweep of a surgically-sharp knife. They should not see the knife before they are slaughtered, or witness the death of other animals.
The law requires abattoirs to stun animals before slaughter to prevent unnecessary suffering but there are exemptions for Jewish and Muslim producers.
Animal rights group Animal Aid recorded the footage with hidden cameras.
An FSA spokesman confirmed four slaughtermen had their licences suspended, meaning they cannot operate as slaughtermen or work with live animals.
The footage apparently shows:
A worker hacking and sawing at animals' throats, in contravention of Islamic practice
Sheep being kicked, lifted by their ears and hurled into solid structures
A worker jumping up and down on a sheep
The animals being frightened by waving knives, smacking and shouting
A worker holding his fist as if to punch the sheep he is holding
More than 4,000 sheep were filmed being killed at Bowood over a three-day period in December.
Kate Fowler, head of campaigns at Animal Aid, said "vicious attacks on defenceless, frightened animals are inexcusable".
Government-appointed vets are supposed to be on hand in all abattoirs the size of Bowood, but Animal Aid said none was seen during the three days of filming.
Animal welfare
The animal rights group, which is the largest in the UK, is now calling for independently-monitored CCTV cameras to be compulsory at slaughterhouses.
During a debate in the House of Commons earlier, Conservative MP for Crawley, Henry Smith, said CCTV was a practical and sensible approach to a "widespread problem".
"It won't stop the suffering inside slaughterhouses but it will deter gross acts of violence that are all too commonly recorded and help vets advise and retrain, as well as help the FSA crack down on law-breaking, by providing evidence for prosecutions, should they be necessary," he said.
Animal Aid, which was formed in 1977, has been involved in a number of campaigns including condemning the culling of deer at Sellafield and criticising the condition of Guernsey horse racing course.
The FSA, which provides operating licences and carries out inspections for slaughterhouses in the UK, said it took animal welfare at abattoirs "very seriously, which is why we immediately suspended the licences of the slaughtermen involved".
"There is no excuse for treating animals in the way shown on the video and we are therefore investigating the footage with a view to prosecution.
"We are also continuing to investigate all the circumstances around the incident to ensure proper safeguards are introduced to stop this happening in the future.
"When the FSA has finished investigating it will need to consider if there is sufficient evidence of a breach of animal welfare legislation to justify a referral to the Crown Prosecution Service, which would decide whether to prosecute or not."
Jamie Foster, a solicitor speaking on behalf of Bowood Lamb, said the incidents were "hugely regrettable".
He said that a picture of a slaughterman standing on the neck of a sheep "fell far below the standards that Bowood would find acceptable and that individual was immediately dismissed for gross negligence".
"But it isn't right that this is routine because Bowood is a company that takes animal welfare extremely seriously," said Mr Foster.
The FSA said Bowood Lamb was still operating.