Scarborough's Market Hall to get £2.7m revamp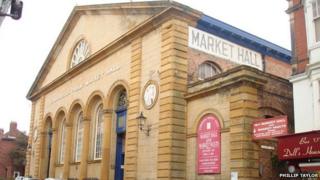 Scarborough's Market Hall is to get a £2.7m revamp in an attempt to boost employment.
Money is coming from the government's Coastal Communities Fund which allocates revenue from marine activity.
The project is expected to create space for 30 new businesses, as well as upgrading existing stalls.
Part of the money will also be used by the University of Hull's Scarborough campus to develop a centralised online shopping site for the market traders.
One of the aims of the project is to keep traditional market skills alive by offering apprenticeships for butchers and bakers, said Conservative councillor Derek Bastiman, who is the cabinet member for regeneration and planning at Scarborough Borough Council.
He said: "This is the beginning of a new era for the market hall and will inject some confidence, not only into the lovely old building, but the excellent businesses we have trading in there.
"We will be in a position to attract more traders into the area creating more jobs and better opportunities."
Work is scheduled to start in the summer and a new mezzanine floor will be added on three sides of the hall, with the work expected to be finished by summer 2016.
The government also announced that the North York Moors National Park Authority would receive £445,000 from the fund to help boost tourism along its coastline.