York Theatre Royal sold for £1 to conservation trust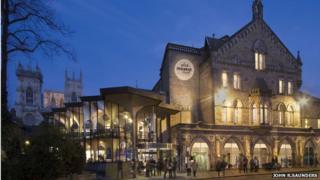 York Theatre Royal is to be sold to a conservation trust for £1, mid-way through a £4.1m redevelopment.
The city council agreed the sale to York Conservation Trust (YCT) at a cabinet meeting on Tuesday evening.
The Arts Council, trusts and foundations have already donated £3.6m, including £500,000 from the council which will still stand.
Philip Tick from the charity York Conservation Trust said: "We only buy challenging buildings."
YCT is responsible for about 90 historic buildings in York, including Fairfax House, the Assembly Rooms and the De Grey Rooms next to the theatre, which received a £500,00 refurbishment less than two years ago.
It also owns three buildings in Goathland and a mausoleum at Little Ouseburn.
The trust leases its buildings to residential and commercial tenants, and will rent out the Theatre Royal to York Citizens Theatre Trust which currently runs the building.
YCT will also invest around £450,000 for the theatre's roof and other external repairs.
Councillor Sonja Crisp said the sell-off for a £1 nominal sum was a "win-win" situation, since it ensured the theatre got its necessary repairs while protecting the council from maintenance costs.
In October, York Theatre Royal launched a £500,000 fundraising appeal to reach its target for a £4.1m redevelopment.
The refurbishment will include a new entrance, seating and a glazed foyer.