Filey care home manager jailed for abuse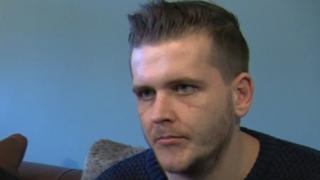 A woman has been jailed for 18 months for abusing patients with dementia at a family-owned care home.
Siobhan Koralewski, 30, verbally and physically abused five elderly people, including an 88-year-old man, at the Roundstone Care Home in Filey, North Yorkshire.
She was found guilty in a trial at Teesside Crown Court last month.
Her conviction was based evidence from her brother Jeremy Koralewski and his girlfriend Jenny Price.
Speaking after the trial, Ms Price, who was a care worker at the home, said she witnessed Koralewski's assault on the 88-year-old man.
"She was attacking him and slapping him around the face," she said.
"She had him on the floor and when he was on the floor she asked me to push the tables back so she had more room.
"The only way I can describe it is that it was like a boxing ring.
"He was screaming and shouting. It just stays with you. I can still hear him shouting for his daughter."
Mr Koralewski, who worked at the home with Ms Price, said his family had disowned him and evicted him and his children from their home after he reported the abuse.
He said he wished he had contacted the authorities sooner about the mistreatment, but was scared.
"We didn't want to lose our house and our money," he said.
"We've never been in that situation, but I don't regret it."