Yorkshire's Magical Winterland in Harrogate closes permanently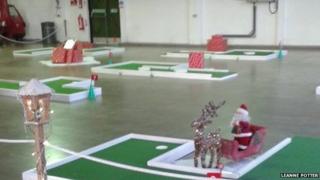 A Christmas attraction in Harrogate criticised by some visitors as a "waste of money" has closed permanently.
Yorkshire's Magical Winterland opened last Wednesday, closed temporarily the next day and then re-opened on Friday.
In a statement on its Facebook page, the company behind the attraction at the Yorkshire Event Centre, said it was shutting for good "with great regret".
"We...have received some positive feedback but also some adverse publicity," the statement said.
It added it was planning to refund those who had bought tickets in advance.
Admission costs £6 for people aged 13 and above, £5 for children aged 2 to 12, and £5 for concessions. A family ticket for four costs £18.
However, activities such as puppet shows, fairground rides and a circus were not included in the admission price.
'Expensive fairground'
One visitor told the BBC she had asked for a refund as it was "completely unsuitable".
"Twelve pounds to get in for two adults," she said.
"We won't be coming again. It's an expensive fairground inside a hall, that's all it really is."
However, one man said it was "more positive" than he expected following the bad publicity.
"The kids enjoyed it, so it was pretty good."
On its opening day, more than 500 people posted comments on the attraction's Facebook page, largely complaining about the poor quality of the event.