Knaresborough revenge bomb hoaxer jailed for four years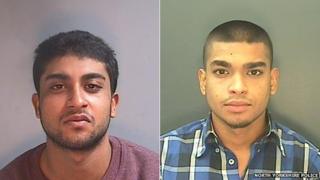 A man who claimed pizza shop employees were planning an Islamist bomb attack out of revenge over an insurance row has been jailed.
Shamsul Islam, 23, made three hoax calls stating staff at Paragon Pizza in Knaresborough had received bomb parts through the post.
Islam, from Leeds, was jailed for four years at York Crown Court after being convicted of communicating a bomb hoax.
He is currently serving an eight year prison sentence for drug offences.
The court heard Islam was stopped by police in Leeds on 15 October last year.
He claimed to be his brother Habibul Islam, whose car he was driving, and said he lived above Paragon Pizza. But when officers contacted the restaurant, staff said Habibul Islam did not live there.
Shamsul Islam made anonymous calls to police the next day claiming the restaurant was a "bomb factory" in revenge against staff.
Armed police raided the restaurant and the premises was searched before police realised it was a hoax. The centre of Knaresborough was sealed off for a number of hours.
Shamsul Islam was jailed for three-and-a-half years for the hoax calls and six months for perverting the course of justice, to run consecutively.
Habibul Islam, who lives in Leeds, pleaded guilty to perverting the course of justice and given a six month suspended sentence.