Scarborough lifeboat disaster plaque unveiled 60 years on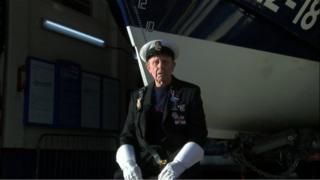 A plaque is to be unveiled to commemorate the 60th anniversary of one of the worst disasters in Scarborough lifeboat's history.
Three crew died when a boat overturned in the south bay in a terrible storm on 8 December 1954.
Scarborough RNLI standard bearer Ross Tyson will unveil a sandstone plaque as part of a service at St Mary's Church.
Mr Tyson, 82, who was coastguard watch-keeper, saw the tragedy unfold from the lifeboat house slipway.
Coxswain John Sheader, second coxswain John Cammish and signalman Francis Bayes died in the tragedy.
The lifeboat had been at sea all afternoon, escorting fishing boats back to the harbour. The crew were heading back to shore when huge waves capsized the boat.
Mr Tyson said: "Two of the men washed ashore. I went in to help them out before it was too late."
Mr Cammish and Mr Sheader were rushed to hospital where they died. Mr Bayes's body was washed ashore a few hours later.