Knaresborough revenge bomb hoax man found guilty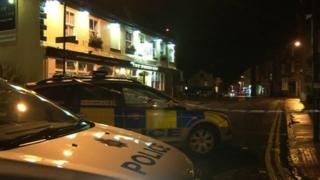 A man has been found guilty of making hoax bomb phone calls which led to the centre of a North Yorkshire town being sealed off by armed police.
Shamsul Islam, 23, from Leeds, was convicted on three counts of communicating a bomb hoax, at York Crown Court.
The court heard Islam made the calls to get revenge on the staff of a pizza restaurant in Knaresborough.
He was remanded in custody and will be sentenced on 9 December.
The jury heard Islam was stopped by a traffic patrol in Leeds on 15 October last year.
When questioned by officers he gave a false name. claiming to be his brother Habibul Islam, whose car he was driving.
He also told police that he lived above a pizza restaurant on the High Street in Knaresborough. When officers contacted the restaurant staff told them Habibul Islam did not live there.
'Bomb factory'
The court heard that Habibul Islam had falsely used the address of the pizza restaurant to insure his car despite living in Leeds, as it was cheaper
The prosecution said Shamsul Islam made anonymous calls to the police the next day claiming the pizza restaurant was a "bomb factory" in an act of revenge on the staff.
Armed police raided the restaurant on 16 October. The staff were strip-searched and the premises searched before police realised it was a hoax.
The centre of Knaresborough was sealed off for a number of hours during the raid.
Islam was caught the next day when police arrested him after a car chase in Leeds. Officers linked him to the hoax calls through phone Sim cards in the vehicle.
Islam has also pleaded guilty to perverting the course of justice.
Habibul Islam, also from Leeds, has pleaded guilty to perverting the course of justice and making a false statement to obtain insurance.