Scarborough Hospital: Errors led to baby death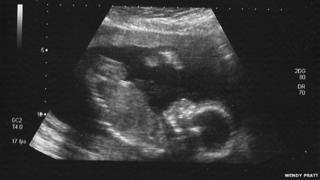 A woman whose unborn baby daughter died because of medical errors says the mistakes were "unforgiveable".
Wendy and Chris Pratt, from Filey, North Yorkshire, had successful IVF treatment in 2009.
But midwifery staff at Scarborough Hospital failed to recognise signs baby Matilda was in distress, resulting in her being delivered prematurely and stillborn in April 2010.
York Teaching Hospital NHS Trust admitted errors were made in the case.
It has agreed an out-of-court compensation settlement with Mr and Mrs Pratt.
Expert evidence commissioned by lawyers for the couple found that midwifery staff told Mrs Pratt when she was 20 weeks pregnant that her baby was smaller than expected.
Emergency operation
They said the baby would need to be closely watched but it was another seven weeks before an electronic monitoring and a scan was provided for the baby.
A later ultrasound was performed and then Mrs Pratt was transferred to Leeds General Infirmary for another scan and electronic monitoring.
The baby's heart rate started to drop as her mother was prepared for an emergency operation. The baby was delivered by emergency caesarean section and could not be resuscitated.
In a statement, York Teaching Hospital NHS Foundation Trust said: "Whilst we are pleased that a sum has been agreed, this was a personal tragedy for the family and we are very sorry when the care that our patients receive falls below the high standards we expect.
"Since these events, Scarborough Hospital has become part of York Teaching Hospital NHS Foundation Trust, an organisation that attaches the highest priority to safe care."
Mrs Pratt, 36, a microbiologist, said: "No words can describe how devastating it was for Chris and I to lose Matilda. She was our first child and was so precious to us that we couldn't believe she hadn't made it.
"We are relieved that the Trust admitted liability for the unforgiveable errors made in mine and Matilda's care at the hospital, but nothing will ever bring my daughter back."