York's Scarborough railway bridge: Work starts on £6m scheme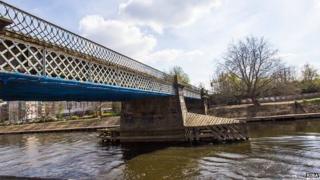 A £6m project to renovate a railway bridge in York by replacing the deck, tracks and a walkway has begun.
A site compound for the work on the Scarborough Rail Bridge has been set up in the nearby Marygate car park, with work due to finish in March 2015.
During part of the work buses will replace trains from York to Scarborough between February 14-22.
The deck section will be assembled in Marygate car park before being moved into place by a large crane.
Phil Verster, of Network Rail, said: "Once these improvements are complete, many parts of the bridge will not need any further work for decades.
"This is a complex project as the bridge spans the River Ouse and is in the middle of a residential area with narrow streets, as well as being close to several important rail lines."