Conservatives select candidate to replace William Hague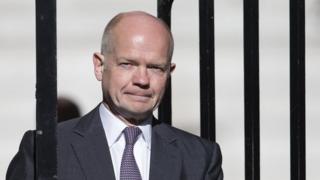 Businessman Rishi Sunak has been selected as the Conservative candidate to vie for William Hague's North Yorkshire seat at the general election.
Mr Hague, who has held the Richmond seat for 26 years, is to leave parliament in 2015.
He made the announcement in July when he stepped down as foreign secretary, a post that Philip Hammond stepped into.
Around 200 party supporters chose Mr Sunak from a shortlist of four at a meeting in the constituency earlier.
He is the co-founder of a £1bn global investment business and is director of several small British companies.
Mr Hague had a majority of more than 23,000 at the last election - the largest of any Tory seat in the country.
He led the Conservative party between 1997 and 2001.