Search to find Rowntree Aero advert girls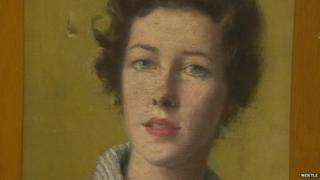 The identities of women who posed for portraits to advertise Aero chocolate bars in the 1950s are finally being unlocked by researchers in York.
The York chocolate firm Rowntree used the pictures to advertise their product between 1951 and 1957.
But when researchers discovered the pictures at York's Borthwick Institute for Archives the search for the models' identities began.
Some of the women have been found, but others remain a mystery.
The research team were working through boardroom papers from the Rowntree company when they discovered the paintings.
York Digital Library researchers Kerstin Doble and Francesca Taylor have been working to discover the stories behind the series of 20 portraits of young women commissioned for use in the advertising campaign, which went with the slogan: Aero - the milk chocolate that's different.
The family of one Aero girl said the portrait had resonated through the generations.
Drucilla Gabbott, whose mother features in a portrait painted by her artist father, said it was a topic of conversation.
She said: "They had a little joke which was that when she did anything eccentric he'd say 'Oh, the Aero girl, she's different'.
"So they kind of remembered the strapline, because I ended up working in advertising I think the fact she'd been in that advert made me interested in it as a career."
Among the former Aero Girls who came forward, one solved the mystery of the identity of the sitter in an Anthony Devas painting titled Art Student.
The researchers said Barbara Pitt, who now lives in South Africa, was 17 at the time of the sitting and attending Goldsmiths College School of Art.
She was living in Chelsea with artist Adrian Ryan, whom she married in September 1952.
Ms Pitt, an artist and teacher, said: "I sat for quite a few well-known Chelsea artists who were friends of Adrian's, but mainly for Anthony from 1951-57.
"Unfortunately he died in 1958, at the age of 47, a dear friend."
Project Curator Ms Doble said: "When we started the project, we were not even sure if the Aero Girls were real women.
"There is so much human interest behind these portraits - the stories we have collected touch on art, social history, fashion, the changing role of women, even the Profumo Affair."