Eggborough Power Station bosses allay generator fears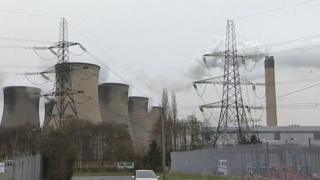 Fears that an electricity generator at a power station in North Yorkshire may have to shut down have been allayed by managers.
In February officials at Eggborough Power Station said the first of its four units could shut down as early as September.
The concern rose after the government blocked a bid to convert one generator from coal to biomass production.
Now managers say all four generating plants will run throughout the winter.
In a statement, the power station said: "We can confirm that all four units at Eggborough Power Station are scheduled to run this winter.
"It had been feared that one unit would need to close after Eggborough was not selected as one of the projects to receive early support via the government's FID (final investment decision) enabling process in December 2013.
"We are continuing to explore options to convert to biomass, but there are no further developments to report at this time."