Coroner records open verdicts on York river deaths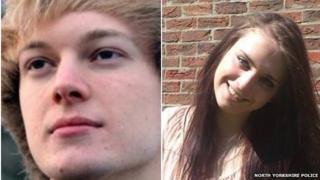 A coroner has recorded open verdicts in the inquests into two people who died after falling into rivers in York.
Ben Clarkson, 22, and Megan Roberts, 20, drowned on separate nights out earlier this year.
The inquest heard that tests showed that the blood alcohol levels of both were well over the legal drink drive limit.
Acting senior coroner Jonathan Leach said there was no way of knowing how they came to end up in the water.
Mr Leach described the deaths as a "tragic end to these young lives" and said he wanted to raise awareness about the dangers of rivers, particularly where alcohol was concerned.
Ms Roberts from Wetherby, West Yorkshire, was an art student at York St John University. She disappeared during a night out with friends in January.
Her body was discovered in the River Ouse on 3 March at Acaster Malbis, a village almost five miles south of York.
Mr Clarkson, was last seen outside a nightclub in York city centre on 2 March.
After an extensive search his body was recovered from the River Foss three weeks later.