New revised North York Moors potash mine plans lodged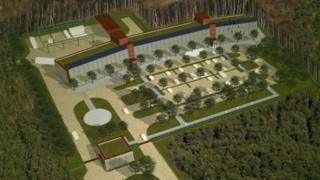 A new revised planning application to build a potash mine in North Yorkshire at a cost of £1.7bn has been submitted.
Sirius Minerals withdrew its previous application for a mine near Whitby in 2013 to allow further time for environmental impact reports.
A new method to carry the mineral to Teesside would cut the amount of above-ground construction, the company said.
The Campaign for National Parks said it was "disappointed" the company had decided to find an alternative site.
Sirius Chief Executive Chris Fraser said the new plans were "significantly better".
'Compelling' case
Mr Fraser said: "We believe we have a compelling planning case that clearly demonstrates that the York potash project can deliver exceptional economic benefits, not only locally here in North Yorkshire and in Teesside but also for the wider UK economy.
"We have planned the project with a very high regard for the environment and where possible minimising associated impacts.
"The designs are much simpler. The finished landforms we believe will be a much better, natural landscaping."
Sirius had initially planned to transport the raw mineral, which would be used to make fertilisers, in an underground pipeline in slurry form.
It is now proposing to transfer it via an underground conveyor belt system.
But Julian Woolford, chief executive at the Campaign for National Parks, said: "We have been waiting for this revised planning application for over a year and are really disappointed that York Potash Ltd have not used the additional time to identify an alternative site outside the National Park.
"This proposal for Europe's largest potash mine is not only a threat to the North York Moors but is of much wider significance as the decisions made on it will be an important test of the planning protection for National Parks."
Sirius said it had submitted the application to both the North York Moors National Park Authority and to the Redcar and Cleveland Borough Council.