Stabbed horse put down at York roadside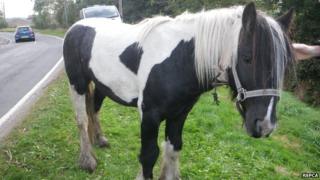 A horse had to be put down after being found with multiple stab wounds in York.
A member of the public reported seeing the animal "on the loose" in Murton Way, Osbaldwick, at about 07:15 BST.
It appeared to be in shock and was bleeding from several cuts, North Yorkshire Police said.
Vets and RSPCA officials were called to the scene and found the cob-type horse had five puncture wounds. It was put to sleep at the roadside.
It is not known who the owner of the three-year-old black and white gelding was and the matter is being investigated by the RSPCA.
A spokeswoman said: "The [horse] was put to sleep at the scene on the advice of the attending vet to prevent further suffering.
"He was wearing a head-collar and tether strap so had been tethered and either released or had escaped from it."
Anyone with information about the incident should call the RSPCA on 0300 1234 999.