Darlington College students hurt in collision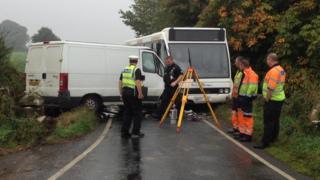 A bus carrying students to Darlington College has crashed in North Yorkshire.
The college said 14 students suffered what were thought to be minor injuries in the accident at 08:40 BST.
The bus was in collision with a van on a minor road between Aldbrough St John and Piercebridge, 2 miles (3.2km) west of Darlington.
The van driver suffered leg injuries and the bus driver minor injuries. The injured were taken to various hospitals for treatment.
The college said one of the injured students had a broken nose.
Cath McCall, from Darlington College, said: "My understanding is that they were travelling from North Yorkshire and I'm told they were on a Dales and District bus heading into college, a journey they've done many times.
"The most important thing is that the students are ok and parents have been informed.
Senior college staff were sent to the scene to support students and assist the emergency services.
North Yorkshire Police said all the casualties, including occupants of the van, were released from hospital earlier on Thursday.