Live grenade is found in Bishopthorpe near York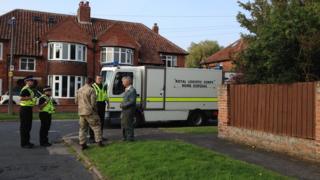 Roads had to be closed off after a live grenade was found in a garden near York.
The grenade was unearthed by workmen working at a property in Maclagan Road, Bishopthorpe, at about 14:20 BST.
A 328ft (100m) cordon which was put around the area was lifted at about 17:30.
An army bomb disposal unit from Catterick was called to the scene and the grenade was removed and destroyed in a nearby field.