Lendal Bridge fines: Four months to apply for refunds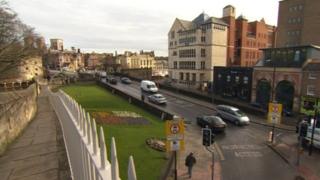 Drivers fined for crossing York's Lendal Bridge have four months to apply for their money back after councillors voted against automatic refunds.
About 56,000 fines totalling more than £1.3m were issued during a trial to tackle congestion.
A traffic adjudicator said the council had "no power" to issue fines because signage and CCTV were inadequate.
The council disputed the finding but said it would return money as "a gesture of goodwill".
Fines were issued while restrictions banning general traffic from using the bridge between 10:30 and 17:00 were in place from August last year to April.
The council's scrutiny committee voted five to four against automatic refunds on 5 August.
Refunds will now only be issued to those who make a claim via the council's official application process.
'Guard against fraud'
Claims via emails and letters will not be accepted, the council said.
Applications have to be submitted either online or at the city council's offices "to guard against fraud and protect the public purse", the authority said.
The council released details of its refunds process on its website.
It said it would publish the total cost of the Lendal Bridge "settlement" after 31 December when the application process ends.
Councillor John Galvin, the Conservative chairman of the scrutiny committee, had said he was "disappointed" by the council's decision and it was fair for drivers to be automatically refunded.
But James Alexander, the Labour leader of the City of York Council, claimed the authority had acted correctly over the refunds and blamed opposition parties for delaying repayments.