York council confirms no automatic refunds for bridge fines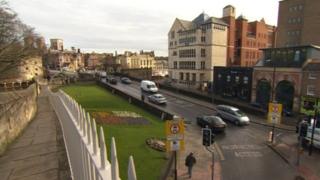 Drivers fined for crossing Lendal Bridge in York will have to ask for their money back after councillors voted against automatic refunds.
About 56,000 fines totalling more than £1.3m were issued during a trial to tackle congestion.
A traffic adjudicator said the council had "no power" to issue fines because signage and CCTV was inadequate.
The council disputed the finding but said it would return money as "a gesture of goodwill".
Fines were issued while restrictions banning general traffic from using the bridge between 10:30 and 17:00 were in place from August last year to April.
The council's scrutiny committee voted five to four against automatic refunds.
'Question of fairness'
Councillor John Galvin, the Conservative chairman of the scrutiny committee, said he was "disappointed" at the decision.
"I think all those who were fined crossing Lendal Bridge, given the situation, should automatically have their fines refunded," he said.
"At the end of the day it's a question of fairness."
Labour leader of the City of York Council James Alexander claimed the council had acted correctly over the refunds and blamed opposition parties for delaying repayments.
"We want to be able to pay back those fines and people can contact us," he said.
"We would have started that four weeks ago if it was left to us but the opposition decided to drag that out even further."
The council said it was still working out the process of how people can claim back their penalties.