Malton cattle market move approved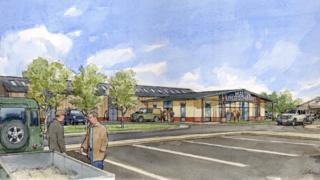 Plans to relocate Malton's livestock market to the outskirts of the North Yorkshire town have been approved by Ryedale Council.
The new site will incorporate an agriculture business park and could create more than 850 jobs, according to its developer, Commercial Development Projects (CDP).
As part of the project, more than 300 houses will be built at separate sites.
The scheme is subject to final approval by Communities Secretary Eric Pickles.
Charles Vyvyan, from CDP, said he was delighted the council had approved the development.
"This decision will result in a massive investment into Malton," he said.
"The approval means that hundreds of new jobs will be created, securing the relocation of the livestock market, as well as offering much needed new housing."