Child sex abuser Wayne O'Donnell jailed for 18 years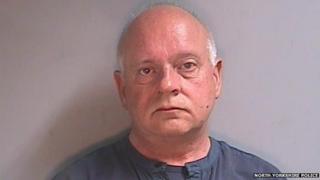 A man from North Yorkshire who raped and sexually abused two young girls has been jailed for 18 years.
Wayne O'Donnell, 55, was found guilty of 16 offences, including four counts of rape, at Teeside Crown Court.
He was also convicted of four counts of sexual assault, seven counts of taking indecent photographs of a child and having extreme pornographic images.
The abuse started in 2005 when the girls were at primary school and continued for seven years.
O'Donnell, of Pinfold Avenue, Sherburn, was described as a "devious and highly dangerous offender" by police.
He manipulated his victims, persuading one of them to give evidence on his behalf, claiming the abuse was committed by another person, North Yorkshire Police said.
Det Con John Atkinson said: "I must pay tribute to O'Donnell's victim who, after enduring years of sexual abuse, was brave enough not only to come forward and tell the police about it, but to then stand up and face him in court and give evidence.
"The fact he managed to persuade another girl to give evidence on his behalf, shows how manipulative O'Donnell truly is.
"I hope his victims are now able to start rebuilding their lives."