Lifeboat feat marks SS Rohilla WWI sea disaster in Whitby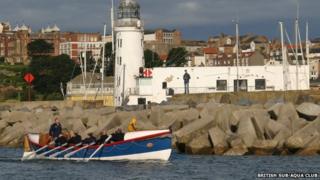 A restored lifeboat has been rowed 20 miles along the North Yorkshire coast to mark the 100th anniversary of a World War One maritime disaster.
In 1914 hospital ship SS Rohilla, which had been sailing from Scotland to Dunkirk, France, to collect wounded soldiers, sank off Whitby in a storm.
The crew of the lifeboat William Riley rescued 145 of the 229 people onboard.
That restored lifeboat has now been rowed from Scarborough to Whitby by the British Sub-Aqua Club to raise money.
The feat, on Saturday morning, has so far raised more than £4,000 for the RNLI.
The divers from Scarborough and South Bay were joined by members from Whitby Anchors Diving Club, Scarborough Yacht Club, Scarborough Rowing Club and the RNLI.
Organiser Anne Morrison said the rowing challenge was also held in memory of scuba diver Colin Bell, 52, who died in August 2009 following a diving expedition of a World War Two wreck off Hartlepool.
The lifeboat was restored by the Whitby Historic Trust and has been used as a fundraising vessel since 2008.