Blind man claims 200mph speed record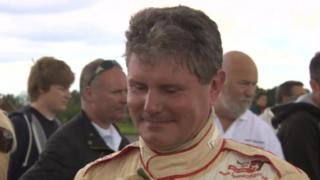 A man claims to have broken the blind land speed record by driving a car at more than 200mph (322km/h) at an airfield in North Yorkshire.
Mike Newman, 52, of Greater Manchester, said he achieved an average speed of 200.9mph over two runs.
His father provided navigation guidance over a radio link at Elvington airfield, near York.
The information on his speeds will be sent to the Guinness Book of Records for authentication.
'Foot on floor'
The car, a LM1000 GT-R 1, was custom-made by Gloucestershire-based Litchfield Motors for the record attempt.
Mr Newman, from Ashton-on-Mersey, said the fastest speed he achieved during the daredevil attempt at the old World War Two bomber airfield was 204mph.
He said: "I am feeling ecstatic. It still hasn't sunk in, really. I have been chasing this dream for 11 years."
Mr Newman, who was born blind due to glaucoma, previously worked for a bank but now runs his Speed of Sight charity full time.
His father Michael said his job was to "focus on the minutiae" of keeping his son on a straight course, encourage him to "keep his foot on the floor" and tell him when to brake.