York Minster fire timber to be auctioned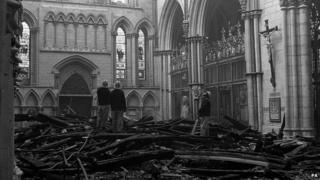 Medieval timbers rescued from York Minster after fire tore through the south transept 30 years ago are to be sold at auction.
Among the 14th Century oak pieces to be offered for sale are sections of the roof which was set alight after being struck by lightning.
The fire which broke out on 9 July 1984 caused damage put at £2.25m.
Stones removed and replaced during conservation work will also be sold alongside the charred timbers.
Rebecca Thompson, the Minster's superintendent of works, said the 30th anniversary of the fire provided an "appropriate" opportunity to sell the items, which have been kept in storage since the blaze.
She said: "The wonderful thing about this auction is that people get to take home a piece of the historic building's fabric, whilst also contributing to the on-going task of maintaining it for future generations, as all the money made is ploughed back into future works."
Some of the wooden bosses - carved wooden 'hubs' where the ribs of the vaulted ceiling met - still contain some of the original paint and gilt-work alongside charred edges.
Smaller pieces of wood have been specially branded with the York Minster logo as a sign of their authenticity.
Included among the stonework for sale are sections taken from the tracery of the Great East Window, which is currently undergoing major restoration.
The timber and stonework will go on display in Dean's Park, York, on Thursday ahead of the sale the following day.