Prince of Wales' visit for Scarborough's GCHQ station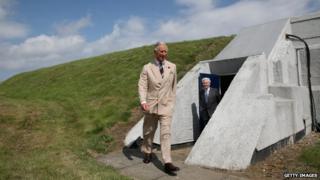 The Prince of Wales has visited part of the GCHQ intelligence network said to be the oldest existing intercept station in the world.
Prince Charles was at GCHQ Scarborough at Irton Moor, North Yorkshire to celebrate the centenary of it first collecting signals intelligence.
The site helps law enforcement agencies prevent terrorism, and serious and organized crime, a GHCQ spokesman said.
More than 200 people work at the site, which has been used since 1943.
An outstation of the main GCHQ site in Cheltenham, the site played a key role in tracking the famous German battleship the Bismarck during World War Two.
The site normally operates under strict secrecy.
Interception activities
The prince, who is patron of the intelligence services, met the people who work at the station and saw some of the site's 100-year history.
The visit included a look at a World War Two Enigma machine. The German machine was used by Britain's codebreakers as a way of deciphering German signals traffic during 1939-45.
The history of the original station dates back to 1912 when the Royal Navy established a Wireless Telegraphy station in the Scarborough area.
Signals intelligence was first collected at the outstation's original North Yorkshire site in 1914.
It is believed to be the longest continuously-serving site for signals intelligence in the world, the GCHQ spokesman said.
GCHQ's interception activities are regulated by UK legislation and parliamentary oversight, he said.