Peter Harris jailed for manslaughter of Elsie Mowbray in York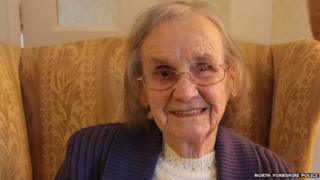 A man has been jailed for killing "a gentle old lady" who died in hospital a week after he burgled her home.
Elsie Mowbray, 87, suffered a head injury when Peter Anthony Harris, of no fixed abode, knocked her over in her home on Leeman Road, York, in January.
The 33-year-old pleaded guilty to manslaughter, burglary and to a separate charge of robbery at an earlier hearing.
He was sentenced to a total of 12 years in prison at Leeds Crown Court.
'Defenceless woman'
Harris knocked on Mrs Mowbray's door in Victoria Court at around 11:00 GMT on New Year's Day.
He claimed to be looking for his rabbit and pushed his way into the property before going upstairs.
As he came back down he was confronted by Mrs Mowbray's son.
A struggle followed and Harris forced his way past Mrs Mowbray who fell to the ground and hit her head on the wall with such force that it caused an indentation in the plaster.
She died in hospital on 8 January.
Harris then carried out a second robbery at another house in the city an hour later.
Det Supt Heather Pearson, of North Yorkshire Police, said: "Peter Harris knew his victim was an elderly, defenceless woman when she answered the door to him.
"He showed no regard for her when he entered her property and has subsequently shown no remorse.
"As a result of his actions, an otherwise fit and healthy lady has had her life cut short and a family has lost a loved one in tragic circumstances."
Mrs Mowbray's family said in a statement: "The crime committed by Peter Harris caused the death of a gentle old lady and nothing can bring her back, but we hope today's proceedings can draw a line and our family can start to look ahead to the future and find some peace."
Harris was sentenced to eight years and nine months for the manslaughter of Mrs Mowbray and four years for burglary to run concurrently.
For the separate charge of robbery he was jailed for three years and three months to run consecutively.