North Yorkshire carbon capture scheme gets £238m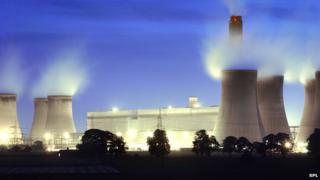 A scheme to store carbon dioxide (CO2) under the North Sea will receive £238m from the European Union.
The White Rose project will pump CO2 from the Drax power station near Selby in North Yorkshire and hold it in undersea rocks.
The developers behind the idea claim it would reduce carbon emissions at the power station by up to 90%.
The €300m grant is the only carbon capture project in Europe to be allocated funds under the EU programme.
Energy and Climate Change Secretary Edward Davey said: "This is great news for Yorkshire and for Britain.
"White Rose will create thousands of green, local jobs and make a real difference to cutting carbon emissions."
The project is backed by a consortium of companies and would see the building of a new coal-fired power station that would produce enough electricity to power 630,000 homes.
A pipeline, built by National Grid, would stretch underground from Drax for 40 miles (64km) across East Yorkshire before going into the sea at Barmston.
C02 would be transported through the pipe in liquid form and stored in natural porous rock beneath the seabed.
If approved, the plant would open in 2020.
In a separate development, the company that owns Drax is also in the process of investing £700m converting half of the plant's existing six coal-fired generating units to burn biomass wood pellets.
Drax is the UK's largest power station and currently produces 7% of the nation's electricity.