Rare 'night shining' clouds seen over Scarborough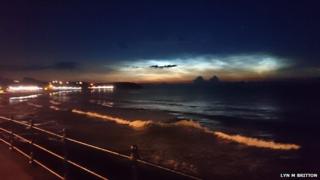 A rare cloud formation has been spotted in the night sky above the North Yorkshire town of Scarborough.
Noctilucent clouds are caused by sunlight shining on ice crystals 50 miles (80km) above the earth's surface, according to BBC Look North's weatherman Paul Hudson.
He said they are the highest clouds to be seen in the atmosphere and tend to occur in summer.
Noctilucent designates a cloud that appears luminescent at night.
With clear skies forecast in parts of Yorkshire on Monday night, there may be a chance to see them again, by looking to the north.
If you spot any, please send your pictures to paultheweatherman@bbc.co.uk