Cyclists injured in Tour de France race route crashes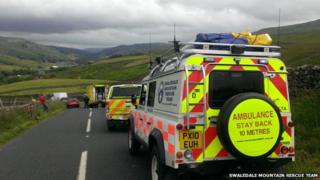 Three cyclists have been injured in crashes on the route of the Tour de France race in North Yorkshire.
Swaledale Mountain Rescue Team (SMRT) said they were called to two accidents on the Buttertubs Pass in the Yorkshire Dales.
One man was airlifted to hospital after two bicycles collided on Thursday.
In a separate incident on the same day, a cyclist hit a crash barrier and the man was catapulted over and stopped just short of a 300-foot drop.
The extent of the injuries to the three riders is not known.
'Very tight bends'
Alan Woodhead, assistant rescue leader for SMRT, said there had been a dramatic increase in the number of cyclists wanting to ride the route.
"It's a mountain stage," he said.
"It's very steep in parts and there are some very, very tight bends.
"People shouldn't underestimate it because it is a English mountain."
Mr Woodhead and a team of 20 people will be on duty at the pass during the duration of the Tour de France.
The professionals will ride through Buttertubs Pass on Saturday as they make their way from Leeds to Harrogate on the first stage of the race.