Hawker Hurricane installed on York Theatre Royal roof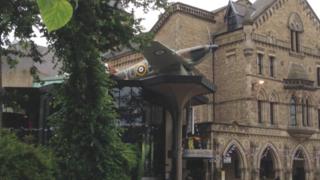 A replica WWII fighter aircraft has been put on the roof of a theatre in York ahead of the Tour de France.
The appearance of the Hawker Hurricane marks the 70th anniversary of French airmen being based in the city.
The plane is owned by the Yorkshire Air Museum, which occupies the former RAF base at Elvington, near York, where French airmen were based during WWII.
It will stay on the roof of the Theatre Royal, St Leonard's Place, for the York stage of the Tour de France on 6 July.
French bomber squadrons at RAF Elvington began operations on 1 July 1944 bombing targets in their home country.
The museum said some 2,300 French personnel were stationed at the base and 51% of their aircrews lost their lives on bombing missions.
Ian Reed, director of the Yorkshire Air Museum, said: "The Hurricane will provide both an amazing talking point for the city's celebration of this magnificent sporting event."
The hurricane will also be the focus of a flypast over York, by a Lancaster, Hurricane and Spitfire from the Battle of Britain Memorial Flight, during that stage of the Tour de France.