North York Moors potash mine plans are scaled back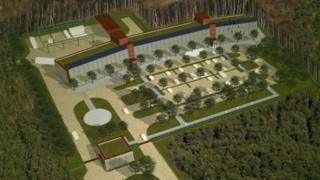 The company behind proposals for a new potash mine in North Yorkshire has scaled back its plans.
Sirius Minerals withdrew its planning application for a mine near Whitby in 2013 to allow time for environmental impact reports to be held.
The company said a new transportation method to transfer the mineral to Teesside would reduce the amount of above-ground construction needed.
A revised planning application for the mine is expected later this summer.
Sirius had initially planned to transport the raw mineral in an underground pipeline in slurry form.
It is now proposing to transfer it via an underground conveyor belt system.
Gareth Edmunds, from the company, said: "The result of that is our construction footprint reduces by 70% and that means the number of buildings a the mine site reduces as well."
Mr Edmunds said a series of public exhibitions would be held next month ahead of a new planning application being submitted to the North York Moors National Park Authority.