Scarborough Futurist Theatre grave theory is dismissed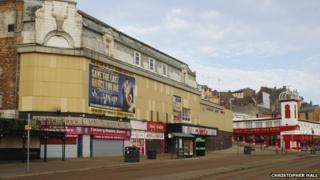 A theatre has been put up for sale after rumours of human remains buried behind the building were dismissed.
The Futurist Theatre in Scarborough, North Yorkshire, was mothballed by the council in January after it said it could no longer afford to subsidise it.
Campaigners fighting to save it claimed a concrete slab marked the grave of one of its founders.
The council said a survey had shown that was highly unlikely and would now seek developers for the seafront site.
The council acquired the theatre in the 1980s but decided to redevelop the site after a report said the building was beyond the point of refurbishment.'
'No human remains'
The Save our Futurist group suggested the slab might mark the position of the grave of a brother of Will Catlin, who built the Futurist in 1921, due to an old covenant protecting the slab from removal.
Scarborough Borough Council said contractors had investigated and the slab probably formed part of the foundation for a retaining wall or could have been part of a series of steps.
Nick Edwards, director of business support at the council, said: "Based on the contractor's detailed explorations and subsequent findings, we are as satisfied as we can be that no human remains are buried below the concrete slab.
"We are now looking forward to seeing what proposals come forward from developers interested in regenerating the site."
The council has not indicated how much it was expecting from the sale of the site.