Whitby boat deaths misadventure verdict returned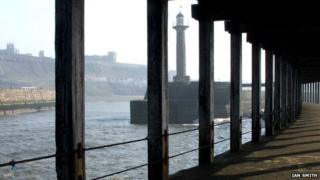 A verdict of misadventure has been returned at the inquest into the deaths of two fishermen on a boat moored in Whitby harbour.
Mark Arries, 26, from Blyth, Northumberland and Edward Ide, 21, from Amble, Northumberland, were pronounced dead at the scene by paramedics.
The Eshcol was moored off Pier Road in the port on 15 January.
The North Yorkshire coroner has recommended that carbon monoxide alarms are fitted on all fishing boats.
The inquest heard the Eshcol, a scallop dredger, had returned to Whitby harbour to land their catch.
One of the crew returned home to Scarborough, but the skipper Mr Arries and another crew member Mr Ide stayed on board for the night.
Mandatory alarms call
The alarm was raised on the morning of 15 January when the men had not been seen.
The skipper of another boat forced his way into the wheelhouse.
He told the inquest he felt a lot of heat and saw that the gas stove was on.
He found both men unresponsive in their bunks.
A pathologist said they had died from carbon monoxide poisoning.
Michael Oakley, the coroner, said that it should be mandatory for carbon monoxide alarms to be fitted on all fishing vessels, he also said there should be a minimum standard for sleeping on vessels which are not equipped for overnight sleeping - the Eshcol had bunks but no fridge or toilet.
He also recommended the Maritime and Coastguard Agency, that carries out inspections of fishing vessels, should include the cooker and heating appliances as part of their checks.