Whitby fishermen deaths 'could have been prevented' by CO alarm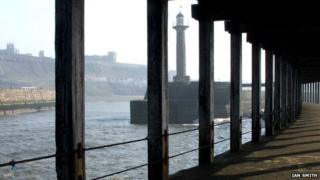 Two fishermen may not have died had their boat had been fitted with a carbon monoxide (CO) alarm, a marine accident report has said.
Mark Arries, 26, and Edward Ide, 21, from Northumberland, were found dead on the Eshcol, moored in Whitby harbour in January.
They had lit a stove to warm themselves, the Marine Accident Investigation Branch (MAIB) said.
The report recommended that CO alarms be fitted in all small fishing vessels.
The MAIB report said the boat, a scallop dredger, had no overnight accommodation.
The men were also extremely tired and cold when they went to sleep.
Heaters on the Eshcol did not work or were damaged so the men lit the butane gas cooker grill to warm themselves, the report said.
The metal gauze of the grill was "holed and corroded causing extraordinarily high levels of CO emissions", and all doors and windows were closed, preventing ventilation, the MAIB said.
The cooker was four years old, had not been fitted according to instructions, and may not have been serviced since installation.
Call for CO alarms
MAIB chief inspector Steve Clinch said: "This is one of several fatal accidents recently investigated by the MAIB where fishermen or leisure boat occupants have been poisoned by carbon monoxide.
"There is no question that fitting CO alarms in accommodation areas of all small vessels would help prevent further similar tragedies from occurring in future."
An interim report published in February said crewmen from nearby boats had forced open the wheelhouse door when Mr Arries and Mr Ide were not seen the next morning.
They found the gas grill still lit, the wheelhouse full of fumes, and the two men dead.
The MAIB said gas cookers were not designed for domestic heating and should be serviced regularly.
Mr Arries had two children and lived in Blyth. Mr Ide lived in Amble and had a son who was less than a year old.