Vale of York IVF funding agreed 'in principle'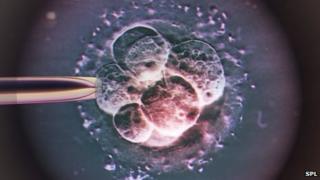 Couples in York could soon be able to get IVF on the NHS after health bosses agreed in principle to fund it.
The NHS Vale of York Clinical Commissioning Group (CCG) is currently the only area in England not to support IVF treatment.
Funding was suspended in 2010 by the former primary care trust as part of a bid to save money.
A CCG spokeswoman said a final decision would be made by 19 June.
She said: "Members of the NHS Vale of York CCG Governing Body met today and agreed in principle to make IVF available to couples in the Vale of York via a joint commissioning approach with NHS Scarborough and Ryedale CCG.
"During the next two weeks, the NHS Vale of York CCG Governing Body will be studying the evidence and information which will inform the detail of the final commissioning position.
"The CCG has a number of key decisions to make in relation to priorities for future commissioning plans.
"A further announcement about IVF will be available in two weeks."
The Vale of York covers places including York, Selby, Tadcaster, Easingwold, Pocklington and parts of Ryedale.
According to the National Institute for Health and Clinical Excellence (NICE), eligible women aged under 40 should be offered three cycles of IVF treatment on the NHS.
Last month, the CCG said it was "the aspiration of the CCG to be a NICE-compliant body with regard to IVF".
One IVF cycle costs the NHS £3,600, with additional drug charges.