Unions considering 'buyout' of Kellingley Colliery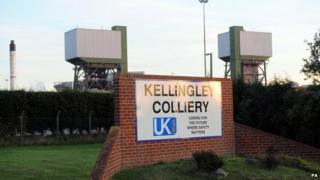 Unions say they are looking at an employee buyout of one of England's last remaining deep coal mines.
UK Coal announced plans in April to close Kellingley Colliery in North Yorkshire with the loss of 700 jobs.
The government said it would loan the cash-strapped firm £10m to execute an 18-month "managed closure" of its two deep mines; Kellingley and Thoresby Colliery in Nottinghamshire.
The National Union of Mineworkers said it would look at a five-year plan.
Keith Hartshorne from the union said: "If everything stacks up, we are looking at an employee buyout at the end of this, which would leave Kellingley run by the workforce."
UK Coal support
UK Coal said it would close both pits with the loss of 1,300 jobs by the end of 2015 in a bid to avoid insolvency.
It blamed its financial problems on the global market with falling coal prices, on top of a fire which destroyed, and subsequently closed, its Daw Mill Colliery in Warwickshire.
Speaking about the union's plans, Andrew Mackintosh, from UK Coal, said: "They've got our support and we will give them as much information as they need."
Staff at Kellingley were balloted by the NUM last month over plans for a phased closure and 79.9% voted in favour.
If the two sites close in 2015, it will leave employee-owned Hatfield colliery in South Yorkshire as Britain's last remaining deep mine.