Further strike action in Yorkshire Ambulance Service dispute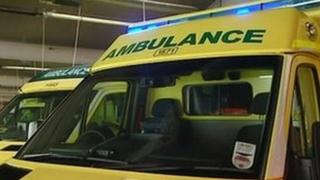 A union is taking more industrial action in a long-running dispute with the Yorkshire Ambulance Service.
Unite members started the strike at 15:00 BST, which is due to go on until 07:00 BST on Sunday.
The action is part of a protest against new shift patterns which the union claims could affect patient safety.
Ian Brandwood, from the Yorkshire Ambulance Service NHS Trust, said he was "very disappointed" Unite had decided to go ahead with the action.
Mr Brandwood claimed the trust had held "constructive talks" with the union over the dispute.
'Liaise directly'
He said: "The trust has taken all reasonable procedural steps to resolve the dispute and has fully cooperated with the course of action agreed with the Advisory, Conciliation and Arbitration Service (ACAS).
"We have continued to liaise directly with senior Unite officials and ACAS throughout this week to try and avert the strike action."
The dispute started in summer 2013, with the union holding a number of days of strike action since then.
Unite represents about 375 of the trust's 4,600 employees and is not recognised by the trust for the purposes of collective bargaining.
Unite said that the new shift patterns could mean staff working 10 hours without a meal break.
The union has claimed this would be "unsafe" for staff and could risk patient safety, an allegation the trust has denied.