Scarborough drugs supply gang members jailed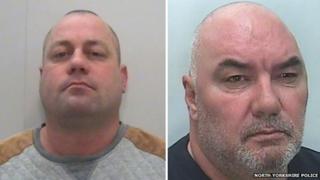 Two men and a woman have been jailed for their part in a plot to supply class A drugs in Scarborough.
Rachel Clarke 28, of Cleveland Avenue, Jonathan Bailey, 40, of Halsey Close, Oldham and Graham Clarke, 53, of Chapel Rise, Filey, North Yorkshire were sentenced at York Crown Court.
North Yorkshire Police said it uncovered about £275,000 worth of drugs during its investigation in July 2012.
A third man received a suspended nine-month sentence for his role.
Sarfraz Hussain, 35, of Newbold Moss, Rochdale, Greater Manchester, pleaded guilty to two counts of possessing a class B drug. He also admitted to acquiring, using and possessing a criminal property.
Bailey was jailed for six years after he pleaded guilty to possession with intent to supply class A and class B drugs. He also admitted conspiring to supply a class A drug.
Graham Clarke, was imprisoned for four years and six months. He pleaded guilty to conspiring to supply a class A drug.
Rachel Clarke was jailed for 12 months after pleading guilty to supplying a class A drug.
North Yorkshire Police said its officers had found 997 ecstasy tablets with a street value of nearly £10,000, during a search of Graham Clarke's house.
Hussain, a taxi driver, had taken a package containing the ecstasy tablets to Graham Clarke's home and was arrested in possession of £1,800, which was payment for the drugs, police said.
During a raid at Bailey's home in Oldham, officers discovered £231,000 worth of cannabis resin bars.
They also found £32,500 worth of cocaine, along with amphetamines.