York plaque honours WW2 French airman's heroism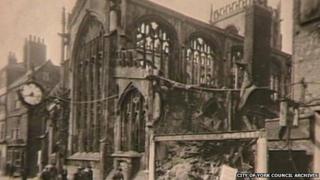 A plaque has been unveiled in York to honour a French World War Two fighter pilot who defended the city from a German air raid.
Yves Mahé intercepted a wave of bombers, shooting down two in the York Blitz of 29 April 1942.
Ian Richardson, from the Yorkshire Air Museum, said his actions "drove the bombers away" from the city.
The memorial at St Martin Le Grand Church will be unveiled by the French ambassador.
Mr Richardson said the bombers were targeting the Rowntree chocolate factory in the north of the city which was being used as a secret ammunition filling area containing hundreds of tonnes of high explosive.
The raid left 95 dead and destroyed hundreds of buildings, including St Martin Le Grand Church.
The church was restored in the 1960s but part of the ruins were turned into a garden of remembrance for the blitz victims.
Baedeker Raids
A petition for a memorial to commemorate the 23-year-old pilot was handed in to the city's Lord Mayor by the pupils of St. Wilfred's Primary School.
The students learned about the history of the raid when a Hawker Hurricane fighter was brought to the city centre by the air museum to mark the 70th anniversary of the attack.
The bombing of York was one of the so called "Baedeker Raids" named after a German travel guide.
The Luftwaffe targeted the UK's historic cities in retaliation for an RAF raid which destroyed the mediaeval German city of Lübeck.
According to the Yorkshire Air Museum, Mr Mahé survived the war and went on to serve in the French Air Force until his death in an air crash in 1962.