York Hagueathon student drinking event 'insensitive'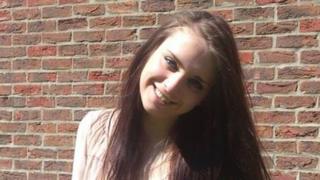 The mother of a student who drowned after a night out in York has criticised a university drinking event as "insensitive".
Megan Roberts, 20, from Wetherby, disappeared in January. Her body was found in March in the River Ouse.
The "Hagueathon" - named after Foreign Secretary William Hague - challenges students to drink 14 pints of beer, but organisers said it was not compulsory.
Jackie Roberts said promoting such levels of consumption was "dangerous".
'Frustrating and upsetting'
Her daughter, a fine art student at St John University, is one of three young people to have drowned in rivers in York since January.
Police said drinking had been a factor in her death.
Mrs Roberts said she was surprised the event was going ahead, given the recent deaths in the city.
She said: "At this particular time when I have lost my daughter it feels quite frustrating and upsetting.
"With everything that has gone on in York for this to be promoted now is insensitive."
'Tongue in cheek'
The event, on 3 May, is organised by the University of York's Conservative and Unionist Association.
It takes its name from much-mocked claims made by Mr Hague that he would sometimes drink 14 pints of beer a day as a teenager.
Participants are challenged to drink that amount in 12 hours.
The association said it was a social event and that no incidents had happened at similar events in the past.
Mr Hague's office said in a statement it had heard the term "Hagueathon" used before.
"It seems to have entered the lexicon as a tongue-in-cheek expression, which we expect and hope is the way it is being used in this context," the statement said.
The University of York said: "Our students are adults and the overwhelming majority are aware of the dangers of consuming excess alcohol, particularly in light of recent events in York."