Scarborough North Bay water park plan gets final go-ahead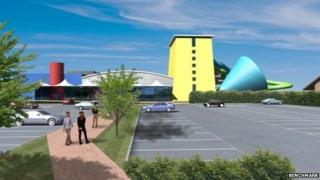 Plans for an £18m seaside water park in Scarborough have been given final approval by the borough council.
The attraction, in the town's North Bay, had been put on hold by developer Benchmark Leisure in 2009 because of the economic downturn.
The water park will include indoor and outdoor swimming pools, water rides, flumes, a spa and a car park. It was granted planning consent in 2012.
The development could be open by Easter 2016, Scarborough Borough Council said.
Wider redevelopment
Plans for the park were approved by the council's Conservative leader Tom Fox, using authority delegated to him by full council.
The attraction, which could attract about 500,000 visitors a year according to the developer, will be built on the site of Burniston Road car park and will be run by German company Alpamare.
It will form part of a wider redevelopment of Scarborough's North Bay, known as The Sands.
Last September, Scarborough Borough Council decided by a single vote to provide a loan facility of up to £9m to Benchmark Leisure to build the water park.
The loan will be repaid through rental income from the park's operator and from anticipated future profits from other parts of the Sands development, the council said.