Yorkshire barn owl eggs spark hope of population recovery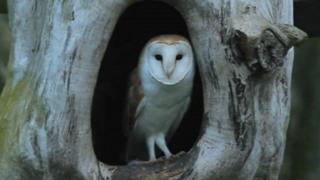 A wildlife conservationist in North Yorkshire hopes a clutch of six barn owl eggs will help to reverse the declining population.
Robert Fuller, from Thixendale, put up 10 nest boxes in the area last year to help barn owls survive and breed.
He is monitoring the eggs which are due to hatch on 1 May.
The Yorkshire Wildlife Trust has warned recent harsh winters have left the barn owl numbers "at an all time low" and launched a campaign to save them.
Mr Fuller, who has put up a total of 150 nest boxes over the last five years, said: "I saw these owls courting and hunting together as a pair last year. They didn't breed and it's such a disappointment.
"But the thing I can do is just feed these owls and see if it works. It has worked and she's on six eggs, well before she should be, and I think it's such an early start she's probably going to double clutch this year, hopefully."
The Trust said the number of breeding pairs in the UK was estimated to be 4,000 in the mid 2000s. Last year it dropped to 1,000.
The charity said the barn owl population had been in decline since World War Two due to the loss of habitat and nest sites, but the recent "run of bad winters, and the prolonged snow of March 2013 has left the UK's population of barn owls at the lowest it has ever been".