Wensleydale Railway line reopens after landslip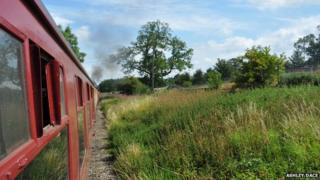 A heritage railway in North Yorkshire, which was closed for more than a year when a landslip cut the track in two, has reopened to the public.
Wensleydale Railway is a 22-mile (35 km) stretch running east to west, from Redmire to Northallerton.
Heavy rain in December last year caused a landslip on the Akebar embankment between Bedale and Leyburn.
David Haxby, chairman of the railway, said funds had been diverted from other projects to fix the embankment.
He said it had been a "massive blow", and had delayed construction of an engine shed, a station in Northallerton, and a future line extension to Castle Bolton and Aysgarth Falls.
Although a shuttle bus had been running between Newton-le-Willows and Ainderby since February, Mr Haxby said visitors had been unable to see the most scenic part of the railway until now.
Network Rail leases the line to Wensleydale Railway, but the heritage line operators said a public appeal had been launched to fund the estimated £100,000 repairs.
In November, an old footbridge from the railway station at Henley-in-Arden in Warwickshire was donated to the Wensleydale Railway.