York to get ultra-fast broadband network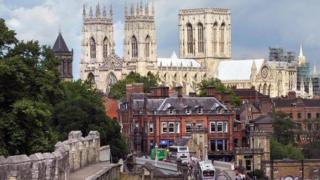 A new fibre optic network is to be created in York to provide ultra-fast broadband speeds throughout the city.
The one gigabit (1,000 Mbps) network will be delivered directly to homes and businesses, with the first customers expected to be connected in 2015.
It is being created as a joint venture between Sky, TalkTalk and CityFibre.
The Labour leader of City of York Council, James Alexander, said it meant York would become the "digital infrastructure capital of the UK".
"I'm delighted that York has been chosen as the first city," Mr Alexander said. "Gaining ultra-fast broadband across the city is a huge boost for our economy."
The companies have not yet announced a launch date for the service, and said they planned to roll it out to two more cities "in due course".
About 78% of households and businesses in York currently have access to superfast broadband, according to Ofcom.