Kellingley and Thoresby miners urged to accept closure deal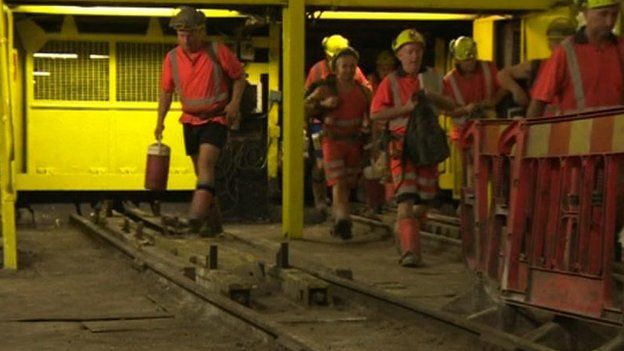 Two coal mines are likely to close "in the coming days" unless a plan to shut them down in 2015 is accepted by workers, UK Coal has said.
The government has offered UK Coal a £10m loan to allow it to carry out a "managed closure" of Kellingley Colliery in North Yorkshire and Thoresby in Nottinghamshire.
Business minister Michael Fallon said the pits had no long-term future.
The National Union of Mineworkers has called for further talks.
After a meeting of about 250 union members on Sunday, the union said it wanted the government to explore alternative options for keeping the pit as a "going concern".
Kellingley's NUM branch secretary Keith Poulson said many miners would quit before closure in 2015.
"Honestly, I can't see how you can have a workforce that's going to be committed to a programme that's eventually going to put them on the dole," he said.
"I can't see anybody who is human that can actually sign up to a deal to do that."
A spokesman for UK Coal said: "A show of hands [at the meeting] indicated a reluctance to accept the managed closure deal, but this was not an official vote.
"Further discussions will now take place to fully understand the views of all NUM members, as UK Coal seeks to finalise a £20m investment package for an 18-month closure programme.
"Without this deal, the business is likely to enter insolvency in the coming days."
The company said that would lead to about 2,000 job losses.
Nigel Adams, Conservative MP for Selby and Ainsty, said he was concerned the union's position could "speed up the closure on the mine".
"By rejecting this offer, the company UK Coal may end up calling in receivers, it could be as early as today, and the business closed and people thrown out of work straight away," he said.
Related Internet Links
The BBC is not responsible for the content of external sites.